Classroom management technologies are not only changing the way education is, but they are also allowing teachers now to go beyond merely making sure the learning objectives are fulfilled.
They are letting educators and professors open up a new world of innovation, positive personality and behaviour development, and success to their students.                                        
Smart classroom management allows you to empower your students and prove that not only can tech be a tool for learning but also for making things happen. Now they are free to share their views with not only their peers but with the whole world with a single click of a button.
Moreover, it can expand the limits of your teaching skills, so that along with successfully managing your class, you can also allow your students to do, not just think and learn.
And in doing so they learn along with us that the world is ever-changing. What could have been impossible in the past is no longer an issue anymore.
With that said, we need to acknowledge that the technology and the digital world are here to stay and we need to quickly adjust to that fact. Here's a all you need to know about how to do just that!
Get started Skolera for FREE
1. Classroom Management Technologies Enhance Teaching Digital Natives
For generations of digital natives who are familiar with phones, tablets, and computer, technology will also be the key to learning.
Our students have changed radically. Today's students are no longer the people our educational system was designed to teach. – Marc Prensky, writer and speaker on education and inventor of the terms "digital native" and "digital immigrant" 

While digital immigrants may have issues adjusting to the new realities of technology prevailing, digital natives grew up with them. Credit: statista.com
Looking Toward the Future of Technology-Enhances Education: Ubiquitous Learning and the Digital Native explains Prenskey's view on this:
"Prensky's digital natives are meant to: prefer receiving information quickly; be adept at processing information rapidly; prefer multi-tasking and non-linear access to information; have a low tolerance for lectures; prefer active rather than passive learning, and rely heavily on communications technologies to access information and to carry out social and professional interactions"
The above image shows the increasing number of digital native generations that are slowly but surely dominating the world. This concept is further explained in the video below:
Therefore, for those who can play video games, make videos, and download music and other applications when they only are 12 months old, teachers need to adapt and change their teaching and classroom management techniques to match this type of students.
2. What Are 4 Advantages of Technology in Classroom?
Technology in classroom has many perks. It allows you to learn more every day about students and explore all the possible it offers for better learning, organization, pedagogy, and better student engagement.
Here are 4 advantages of using technology in classroom:
1. Classroom Management Technologies Allow for Better Control
Teachers have a whole lot better classroom control with technology on their side. Controlling the classroom is one of the most essential teaching skills of a good teacher. It can be quite aggravating having to fear losing your grip on the class.
Classroom management technologies, e.g., Skolera school management software, can help with that. With effective classroom management and using the right tech, students can stay focused on their lesson, engaged with the knowledge they are acquiring, and organized as well.
In conjunction, with competing and dynamic behaviour management techniques, professors are able to maximize classroom time by minimizing any possible classroom disruption or student misbehavior mid-class.
2. The Best Behaviour Management Strategies
Classroom management technologies also allow students more independence. Through shared learning documents, videos, audios, and interactive images, they can be free to learn independently.
Now, in addition to the 2020 effective teaching skills, classroom management technologies open up the possibility for students to choose their own kind of learning. Having this right makes them have more ownership and responsibility for what the knowledge they are acquiring every day.
In addition, with classroom management software system Skolera, teachers can more fully use flipped classrooms strategy, which involves students getting a grasp of the material before class by watching the presentation and preparing any questions they may have.

We've discussed this in a previous post. Skolera smart classroom management system provides schools with a platform on which teachers can upload diagrams, materials, notes, and resources and share and attach content and files with their students as well as videos of themselves explaining the lessons.
Using it, students can also access notes, slides, and videos from an LMS (learning management system) equipped with cloud storage. Assessment and assignments can also be completed on the system.
The class is where they ask those questions, get a more complete understanding, and put the new knowledge and skills into practice. This also facilitates the self-directed learning approach of experience first and foremost, invented by progressive education movement and John Dewey.
Self-directed learning is one of the best advised effective classroom management strategies for new teachers, which motivates students to lead the way to their own futures (check out our blog post on "5 Classroom Management Strategies using Skolera").
So how can we use this approach into effective classroom management? It can be incorporated in several ways starting from lesson plans design to using classroom management technologies, LMS, gamification, and online resources.
However, according to Lisa Petro, the co-founder of Know My World, a global education organization built by teachers for digital cross-cultural exchange and social, emotional, and cultural learning, for the best self-direct learning strategy, you need to ask these questions first while designing the lesson plan:
In what way can students explore their conclusions in a safe and responsible way?

How can students scaffold their own learning experiences as a method for trying new ways of interaction and discovery?

How can we support students through the process of experimentation and help them manage moments when they disregard others, show bias, or participate in discrimination?

In what ways, can we as educators allow students the space to try new theories and identities without making them feel stigmatized, reduced to labels, or wrong for their judgements and opinions?
Join Skolera Now for FREE
3. Classroom Management Technologies: Better Engagement
Classroom management technologies are a great way to creates fun and come up with interactive, engaging lessons for your students.
Skolera has recognized the importance of all those aspects and has also created a feature called 'zones' through which students, teachers, and parents can take part in extracurricular activities.
"If you tell me, I'll forget; if you show me, I may remember; if you involve me, I'll understand" – A Chinese proverb
Some professors believe that games should never be more engaging to students and young learner than traditional learning. However, gamification is one of the most exciting tools classroom management technologies offer.
Gamification drives challenge and motivation, especially if it is part of the subject lesson plan. Advanced classroom management software systems get the dull, monotonous atmosphere out of the class and color it with the excitement of playing learning games.
Gamification in itself is an old concept. It's been used for ages now. However, what's really new about it is that it is considered one of the behaviour management strategies that can be integrated into technology.
What Is Gamification?
Gamification is a learning approach used to motivate students through learning games in order to reach the highest levels of engagement and participation within the classroom, or outside if you are using classroom management software.
This approach can even affect students behaviour; it makes them more open to learn and excited to get back to the teacher and colleagues to share the feedback with them.
In addition, it allows them to also relate to what they actually want and how they think! And it's one of the very good classroom discipline ideas for teachers as well.
But how to make gamification more related to the learning objectives? Well, that's a really good question! Teachers use Skolera's badges and Hall of Fame, which allows them to motivate students by placing up to five students in the list.
No criteria are set for the Hall of Fame, but the choice of students is left to your discretion. Also, for every homework or task a student makes, points are added.
What are 7 Advantages of Classroom Management Technologies Gamification?
Motivating students to be a leading part of the self-directed learning model we discussed earlier

Allowing learners an safe, virtual environment for trial, where they can fail and fail again before succeeding without a real negative outcome

Although it's only virtual, it is also connected to the learning objectives of the class: practical

Drives them to work harder in order to see the rewards of this

Giving students the opportunity to learn with more freedom

Class is just way much more fun!

Learning that technology is essentially used not just for fun but for learning and experience
4. Make Classroom Management, Grading, and Revision Easier
Teachers' daily routine is never ending. They have a lot of work to do: revision, correction, grading, organization, etc.
With technology, teachers can use classroom management software to make that work a little lighter. Using Skolera, students will immediately know their grades and the teacher's comments either their mobile phones or computers.
Moreover, this gives you much needed time to direct your efforts more fully towards coming up with better classroom management ideas and improving the educational material and strategies as well as student performance.
3. What Is a Disadvantage of Technology?
Some might argue that the disadvantages of technology weigh more than its advantages. However, Nicole Mace, an adjunct online instructor and a freelance instructional designer with an MEd in Educational Technology from Lesley University and also a professional graduate certification in instructional design from the University of Wisconsin-Stout, offers a solution.
She believes that although "Technology can be motivating for students in and of itself. Still, like adults, students' focus can wander when working online.
To have students re-engage with the task at hand, give them a couple minutes off their devices and have them turn to engage with a classmate face-to-face."  
4. What Is Digital Classroom Technology?
In a previous post, we explained virtual classrooms as high-quality educational classes held online through classroom management system. They allow direct as well as indirect interaction between both the teacher and the students.
Professors, using them, can explain the lesson exactly as if they were in a real classroom at school at the agreed upon time, but with a few added technological touches.

Virtual classrooms provide teachers with the opportunity to share their knowledge with their students, interact and communicate with them, explain ideas and thought, and even work with them.
Besides, digital classroom technology can make a world of difference for teachers. It allows them to limit the need for private lessons, provide an interactive environment for students, and also develop a more effective strategy for themselves by re-watching the lessons they give and how students respond to them.
Virtual classrooms also provide professors with the opportunity to use them to engage their students; they are digital natives who are connected to the Internet and computers in general!
Create Free Account
Jacob Kounin Classroom Management, Virtually!
What's really great about Skolera virtual classroom management is that it doesn't hold you back. It fulfills most, if not all, factors of Kounin model, especially the second one: overlapping.
Kounin is an educational psychologist offers a model for effective classroom management. And the second factor of it is overlapping, which means "multitasking."
He explains overlapping as the way teachers divide their class into different groups that work on various activities. This way, the educator is able to easily communicate with each and every student and provide individual help at any time.
Such strategy allows them better classroom control, an option provided by Skolera virtual classrooms.
5. How Do You Create a Virtual Classroom?
In "School Remote Learning: 5 Tips to Create Perfect Virtual Classroom," we discussed some of the best tips from experts in classroom management techniques, effective teaching skills, and teaching online.
Virtual classrooms in Skolera classroom management software are a state-of-the-art, high tech communication and collaboration tool.
As a professor, you can initiate a virtual classroom session by a few clicks only. Then, students are automatically notified that a session is active and can join right away.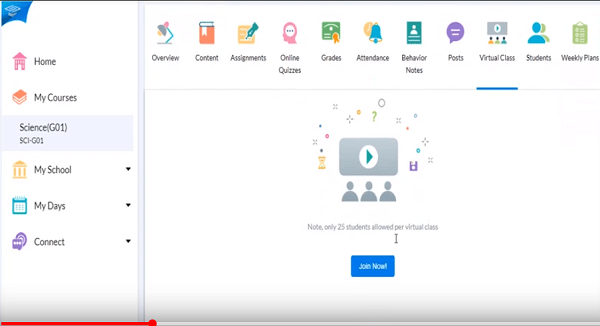 Image: Virtual classrooms at Skolera learning management system
Here are the steps to easily create a virtual classroom in classroom management software skolera:
Click on the name of the course from the main navigation menu.

Select the class you want to enter from the list of classes you have.

To create a Virtual Class session, click on the Create Class button.

A new browser page will open. Please allow few seconds for the software to load.

You will be automatically directed and into the session page

You will also find Skolera easily integrates with BigBlueButtonTM to enable remote and distant interaction.
9 Advantages of Virtual Classroom
Available to use from anywhere or time as long as there is an Internet connection

Low cost

Easy to use

Allows for both individual and large group learning

Continuous interaction, engagement, response, follow-up is never easier

Classroom management technologies, e.g., digital classrooms, do not require high tech skills, only effective teaching skills

Encouraging students to participate

Interactive education

Ability to record lessons to re-watch them anytime
To know more on classroom management technologies and how to best use them in education, check our blog on a regular basis. You can also know more about how to help manage your school through our Skolera website. 
Book FREE Live Demo Now