The Egyptian entrepreneur Dr. Khadija El-Bedweihy founded Skolera in 2019, aiming at developing a comprehensive system to make school management a simple process. Skolera has managed to change education in many schools as well as the individuals' perspective towards the whole process.
Skolera­, the unified digital platform, allowed Dr. Khadija to create solutions to the challenges facing the educational process in Egypt and the Arab world. This was done completely on the basis of scientific approaches of experts in education and psychology.
Moreover, Skolera was awarded twice by Finance Online Website: the best LMS 2017 Rising Star and Great User Experience awards.
Consequently, Skolera has risen to be one of the top 20 comprehensive learning management systems in the world. It was adopted by Egypt for Education Management Organization, which manages Nile Egyptian Schools.
Now, it is being used in 9 of these schools as a preliminary stage, in addition to a number of schools in Egypt, Saudi Arabia, Oman, and Kenia. Therefore, Skolera SMS (school management system) was successful in many schools, especially the state's Nile Egyptian Schools. 
It's worth mentioning that its adoption at Nile Egyptian Schools (NES) reflects the course Egyptian state and education ministry are taking towards digitization and adopting the best technological means like SMS.
This has deeply affected the education process and its participants: students, teachers, parents, heads of departments, etc.
Skolera SMS: 2019… Unprecedented Accomplishments
Skolera SMS is one of trendiest technological solutions that aim to constantly develop education and polish teaching methods and school management. It's an innovative tool that teachers cannot do without now. It helps you create educational activities, manage them, and share them with students and other teachers. 
It's also considered a complementary factor to the educational process, as it makes education more effective, meaningful, and influential.
With the fast-paced life we now have and technology mostly leading it, creating such an edtech system was a must.
This is because nowadays students need more effective methods and tools to communicate with each other and their teachers, something Skolera was able to provide. Further, it was able to introduce a comprehensive platform to manage students' affairs, HR, finance, different school services, and more.
The SMS accomplishments in 2019 have exceeded many of our expectations in Skolera. We started the year by welcoming many schools who newly joined schools that prefer Skolera. And we ended it by launching new updates for Skolera's 6.0 Version based on special recommendation from our partners—teachers, parents, and students using the system—in schools.
Today, we celebrate a new year—2020—by more updates that would add more productivity on Skolera, a system designed specifically based on a combination of the views of the best in the fields of technology and psychology (read Confessions of Egyptian Teachers on their Relationship with Students). Now let's look back to our best accomplishments in 2019 and what we've reached so far.
1. Skolera Launches New Updates for Version 6.0
Skolera launched new updates for version 6.0, ending 2019 with a flourish. The new updates included adding more flexibility to the course planner, assignments, and exams, to make teaching easier for teachers.
On the one hand, in case you are a teacher, Skolera now provides you with the ability to easily upload multiple files at one.
Teachers can write mathematical symbols and clear and expressive behavior notes on students and the actions taken towards a student's bad behavior based on pre-determined categories.
Moreover, teachers can now assign homework to any specific group of students they choose, helping low performance by assigning more or different assignments to them, for instance.
On the other hand, let's say you are a student. Skolera can now automatically save your answers in exams to keep from losing them, if the Internet is down at any point, for example. When the time is over, the system automatically saves all answers and produces them to the teacher, so the student doesn't need to press 'end exam.'
New Updates: Skolera Monitors Its Users Requirements
Capital International Schools—one of the best school we are always pleased to deal with—has been our partners in success and development (to know more about Skolera, read "5 Classroom Management Strategies using Skolera").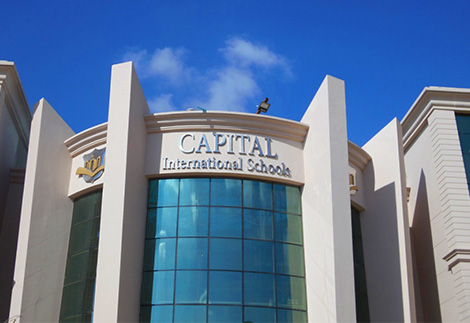 Capital International Schools adopts Skolera SMS
Skolera SMS Holds Training Workshops
Keen on offering support and training to schools, Skolera's work team makes sure to constantly communicate with teachers, make training workshops, and answer all questions.
In these workshops, our training team explains how the system works and the way to achieve maximum benefit from it, inside class and outside it. Using Skolera, teachers can not only create curriculum, send assignments, and make exams, but they can also send these exams to all classes of the same grade in one step!
If your school would like an introductory demo of Skolera, please press here. Demos are held at schools in order to practically demonstrate how the system works, explain all the needed details on how to communicate with parents and students through it, and create free trial accounts for management, heads of departments, teachers, and students.
This is purely aimed at enabling teachers, students, heads of departments, and parents as well to gain command of the system and identify its multiple features, helping school employees perfectly do their jobs.
2. The Egyptian Ministry of Education's Schools Adopt Scholera
Egypt for Education Management Organization—founded by the Egyptian Ministry of Education and the managing entity of the state's Nile Egyptian Schools—joined our list of special customers who aim to employ edtech in school in February 2019. Skolera is an easy, flexible, and comprehensive LMS that supports a variety of different integrated add-ons like Timetable Management and Question Bank.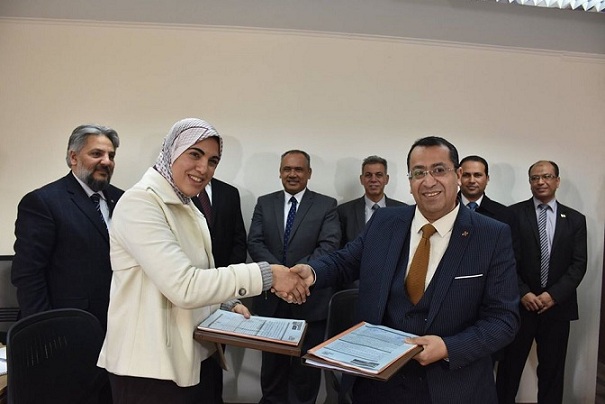 Dr. Hassan Ismail Fares, the Chairman of the Board of Directors of Egypt for Education Management Organization, signing the contract with Dr. Khadija
Skolera's adoption at Nile Egyptian Schools came as the company's strategic initiative to manage e-education "with the goal of developing education by substituting knowledge with technology for students through their own accounts on the internet instead of the old system and papers."
Dr. Hassan Ismail Fares, the Chairman of the Board of Directors of Egypt for Education Management Organization, signed the contract with Dr. Khadija, the CEO of Skolera, to start using the SMS at the Nile Egyptian School. This comes alongside the state's move toward improving education quality and keep up with the latest international systems through digitization and raising the number of Nile Egyptian Schools in the governorates and cities of Egypt, according to Al Wafd.
Dr. Hassan Ismail Fares told Al Wafd that Skolera SMS is based on school management's interaction with students and parents.
Besides, Skolera allows the teacher to recognize the performance of each student and their knowledge, their points of weakness and strength, the individual differences with other students, and how to improve their ability to learn.
It also gives teachers the opportunity to let students join the educational process to create a space for individual learning, helping build their personality.
Skolera's team held a training program session for 5 of the Nile Egyptian Schools, for both school managers and teachers, where the system's different interfaces and main features were illustrated in order to begin using it in these schools to electronically manage the education process.
Skolera training program for in 5 of the Nile Egyptian Schools, school managers and teachers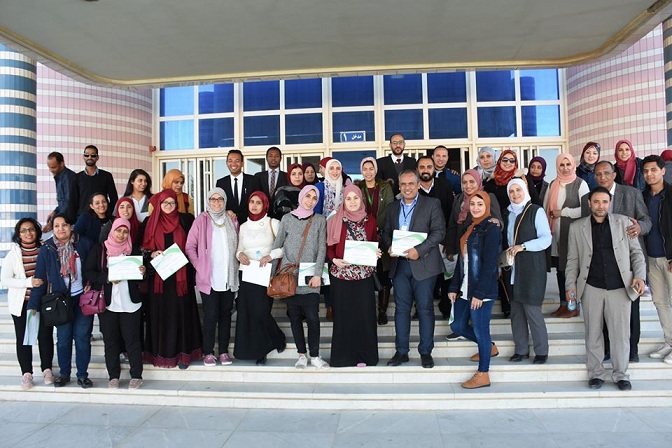 Managers of 5 the Nile Egyptian Schools in the closing session after receiving the certificate of completion of Skolera training
The schools' teachers and managers received training certificates at the closing session of the training program. The attendees included 5 managers: Ms. Rehab Sabry Hashem—School Manager of NES Damietta branch, Mr. Amr Adel Mohamed—School Manager of NES Sadat branch, Ms. Sofia Ahmed Touson—School Manager of NES Assiut branch, Ms. Hanan Thabet Saleh—School Manager of NES Aswan branch, Mr. Ehab Nabil Ibrahim—School Manager of NES Luxor branch, and Mr. Osama Nafady Manager of Information Technology at Egypt for Education Management Organization.
It's worth mentioning that Waya—a page that specializes in providing success stories of the Arab world technology entrepreneurs and their rich experiences—interviewed Dr. Khadija Skolera's founder to show the best innovative solutions for education development.
In the Waya's report, Dr. Khadija explains Skolera's brilliant idea, saying that it's a unified platform that digitizes everything in the educational process and answers the needs of students, parents, etc. It allows parents to follow up on their children's performance and enables students to do their assignments and test as well.
3. Other Schools that Adopted Skolera in 2019
3.1. Manaret El Eman School
More schools joined Skolera mid-2019 after the system proved itself an exceptional advanced educational experience. It provides teachers, students, and parents with more effective and productive ways to cooperate and communicate with each other and monitor performance. One of the first schools to join Skolera mid-2019 was Manaret El Eman School (Al Waha branch, Nasr City).
Manaret El Eman School management—Ms. Maha Khairy the school's General Manager—expressed her confidence in Skolera SMS through her cooperation with the work team and communicating with them to implement the system as soon as possible.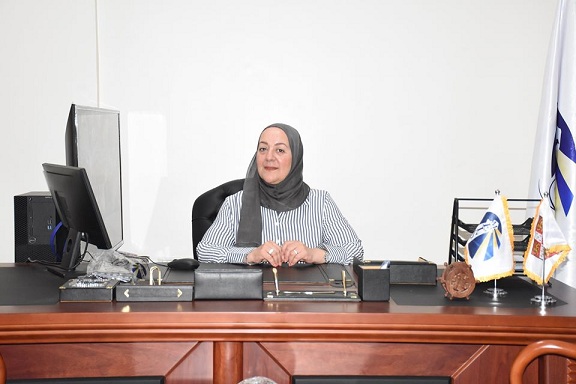 Ms. Maha Khairy, the school's General Manager
3.2. Menese International Schools
The second school was Menese International Schools. The schools' management implemented Skolera LMS, a decision taken to facilitate managing the daily tasks at school, for management, teaching staff, and students and enable parents to easily follow up on their children's performance and activities though Skolera app, on their smart phones.
Ms. Engy Nada, Menese International Schools Manager, signed the contract with Mr. Hesham Hamman the Sales Executive Manager, the company's representative. This decision comes after studying the best programs and systems available in order to maximize the education experience for all parties, improve it, move towards the digital transformation, a direction set by the Ministry of Education, improve students skills, and also manage all school departments through one unified comprehensive system.
Menese International Schools teachers during Skolera training session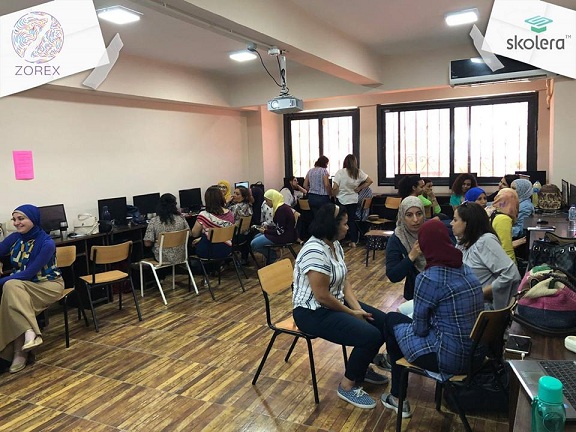 Menese International Schools teachers during training on Skolera
School members of staff, of schools adopting Skolera, made sure to achieve the maximum benefit of the system through attending training sessions held by Skolera to explain its features and functions.
3.3. Future Generation International School and Al-Zohoor Private School
In Sohag governorate, Skolera succeeded in gaining the confidence of both Future Generation International School and Al-Zohoor Private School. It improves education quality and helps school managers to envision a plan for the whole education process and evaluate how it will be implemented.
In addition, Skolera helps implement the most modern education methods and improve students skills and knowledge in a proper educational frame.
Intensive training sessions were held at Future Generation International School for management, heads of departments, and school teachers to guarantee perfecting their ability to master using different interfaces and their features.
Dr. Souad Fateem—Winner International School's Education Counselor says "It was really built and designed to be very professional but yet so slick. The platform helps school to generate efficient reports on teachers and students. The technical support is up to the classy level to address all school's needs."
Further, Skolera motivates students to do better, by using motivation and excellence badges to reward them for their achievements, giving them more effective education.
It also facilitates monitoring and managing all activities related to school fees, salaries, days off, etc.
Schools Accredited by Cambridge Adopt Skolera
3.4. Liberty International School
Of the schools that also adopted Skolera is Liberty International School, accredited by Cambridge since 2014 until now.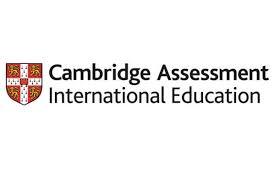 It's worth mentioning that according to Cambridge International Website, there are 134 schools in Egypt accredited by Cambridge, of 10 thousand schools in the world.
3.5. National Language Schools
National Language Schools have cooperated with Skolera, responding to the Ministry of Education's directive of employing edtech in managing schools. National Language Schools were also accredited by Cambridge and AdvanceEd, besides their rich history that resulted in the graduation of many generations for 60 years.
3.6. St. Fatima International School and Cardiff Modern School
St. Fatima International School, Al Hegaz IGCSE, and Cardiff Modern School both embraced Skolera as the best LMS to be used in their effort to provide a unique educational experience for students and their parents. They contacted Skolera team in order to start using the system there as soon as possible.
3.7. Heliopolis Modern Language School and King Integrated American School
It's our pleasure to finalize our list of schools that adopted Skolera and approved it as the best SMS with both Heliopolis Modern Language School and King Integrated American School. They will be part of our journey towards better education in 2020.
3.8. Al Afak Al Gadeda International Schools and Skylight Schools
Al Afak Al Gadeda International Schools, First Settlement, and Skylight Schools, Degla Palms, 6th of October, are of the first schools to put their trust in one of the best LMS in the world, Skolera. Both schools follow international school criteria through using the system in smoothly managing the educational process and educational fees, recording and paying salaries and payments, and generating financial documents and reports.
Skolera proved it's effective in managing schools; therefore, Sun of Glory Schools and New Damietta International Schools decided to renew their trust in the LMS.
Skolera became one of the top SMS in Egypt, especially in  New Vision International Schools, Roots International Schools, accredited by Cambridge, Smart Vision School, and Al Mansour Modern School, schools that support Skolera's way of changing schools and their management to the better.
2020… A New Start
2020 is going to be a different start for Skolera, something that will be reflected in all schools cooperating with us after launching our new updates.
In a previous interview with Egypt Innovate, Dr. Khadija said that "We have a very strong Egyptian product that can compete with any international product, and we know that the Ministry of Education will head towards inclusive digital solutions sooner or later because recently there's been a lot of talk about the tablet and electronic exams…we're trying to share this project with them."
We have noticed indeed that there is a noticeable shift towards developing education and edtech thanks to the current Minister of Education, Dr. Tarek Galal Shawki, and the constant instructions to employ edtech in our schools. 
This gives us hope that Skolera LMS will soon be implemented in all Egyptian schools in order to produce a transparent better educational process for us to take steady steps towards more success, development, and comprehensive reform.
To follow up on the trendiest topics, check our blog on a regular basis. You may also know more about how to help your school through our website.