With every academic semester and year, teachers learn about the importance of changing and tweaking instructional strategies. Sometimes, they might find that what previously worked with students of last year, might not be so effective or fruitful with this year's students.
This can be observed in the grading and/or reporting system which some educators think does not align with today's practices in teaching. 
Standards-based grading systems have started to be popular among new teachers for various reasons: they allow them to consistently measure student achievement, encourage students to focus on learning and retaining class content, and so much more.
In this article, you'll read about 7 important aspects of the standards-based grading scale that you should know before you start implementing it in the classroom. 
What is Standards-based Grading Scale?
What is the definition of standards-based grading? Standards-based grading (also called standardized grading) gauges how well a student comprehends the subject being covered in class or their mastery of the fundamental requirements for the course.
Every unit's standards will be broken down into smaller objectives and criteria by the teacher utilizing a thorough rubric at the start of the course. 
The student is evaluated during the unit to determine whether they genuinely understand the subject matter utilizing a range of assessments, including classic quizzes, projects, dialogues, or reports. All of the data the teacher gathers proving mastery of the fundamental requirements will be used to determine the class grade.
This method aims to give the teacher, student, and parent the most accurate image of the student's learning while also promoting conversation on how the student can master the course material.
In specific, each assessment will give the student feedback on what to work on next because learning is a process that occurs over time, and the student will be permitted to repeat assessments. The new score will take the place of the old one if the new assessments demonstrate a better level of skill.
Skolera's November Webinar: Learn the Full Assessment Cycle!
Standards-based Grading vs Traditional Grading – How Are They Different?
With traditional grading systems, teachers generally calculate students' grades according to classwork, homework, projects, and tests which are organized within the student's grade book. Sometimes teachers also include non-academic aspects like behaviour and attendance.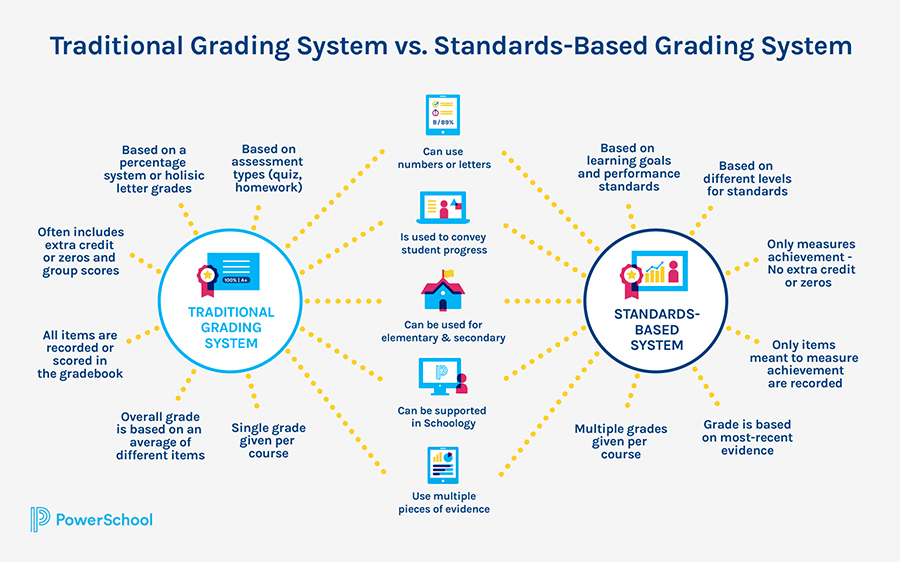 Standards-based grading scale 1-4 does not do the distinction between the tests, homework and projects. The entirety of a student's work is evaluated in order to determine whether they have mastered the fundamental requirements or standards. The important standards are monitored in a student's work scores, providing the teacher, student, and parent with a comprehensive picture of which standards a student has mastered.
Non-academic variables like behaviour and attendance are usually recorded differently and are not taken into account when determining this grade.
Standards-based Grading Rubric

According to Tomlinson and McTighe, "A grade should give as clear a measure as possible of the best a student can do. Too often, grades reflect an unknown mixture of multiple factors…Unless teachers throughout a school or district completely agree on the elements and factor them into their grading in consistent ways, the meaning of grades will vary from classroom to classroom, school to school."
To put it simply, grades are used to reflect a student's comprehension of the material and ability to apply newly gained skills. We are all accustomed to seeing grades as letters (A, B, C, D or F). Standards-based grading goes further than a letter grade to offer a clearer and more accurate method of denoting various levels of understanding and/or skill display.
The essential goal of grading is to announce to all participants, including students, accomplishments towards set standards. Educators, however, are now realizing that the reality is that there is a chance students can do well without receiving a letter grade.
However, students cannot properly learn without detailed and descriptive feedback that helps them towards proficiency. 
Giving a correct grade requires just evaluating and grading under the proof of academic standard(s) or skill-specific knowledge. An activity or project can be evaluated and used as proof on a school report if it is a required component of the curriculum and is in line with the course standards.
In fact, there are also factors that are typically unrelated to a student's content comprehension or understanding that might affect their grade.
These concerns are commonly linked to acts like not handing in assignments on time, doing them late, or not at all, or skipping class. While these learner traits speak to the student's habits, they might not reflect the student's comprehension of the subject matter or how they use their skills.
The students' mastery of standards is tracked over time in standards-based classrooms, with the most recent proof of learning being given the most weight.
Thus, unlike in the past when final course scores were determined by averaging all grades received over the course of a quarter or semester, students are not graded for lacking knowledge of the material at the start of a course/unit of study.
Furthermore, student grades are not diminished as a result of submitting late work, failing to participate in class, or submitting an assignment but failing to include a name.
Teachers will be able to mention these behaviours and learner traits in a distinct section of the report card.
6 strategies to improve student achievement
Standards-based Grading Examples
If you're wondering what a standards-based grading scale looks like, here are some teacher-made examples to inspire you.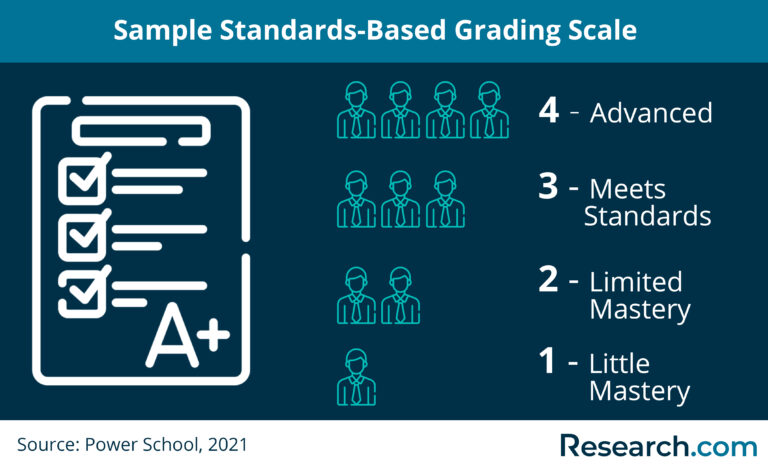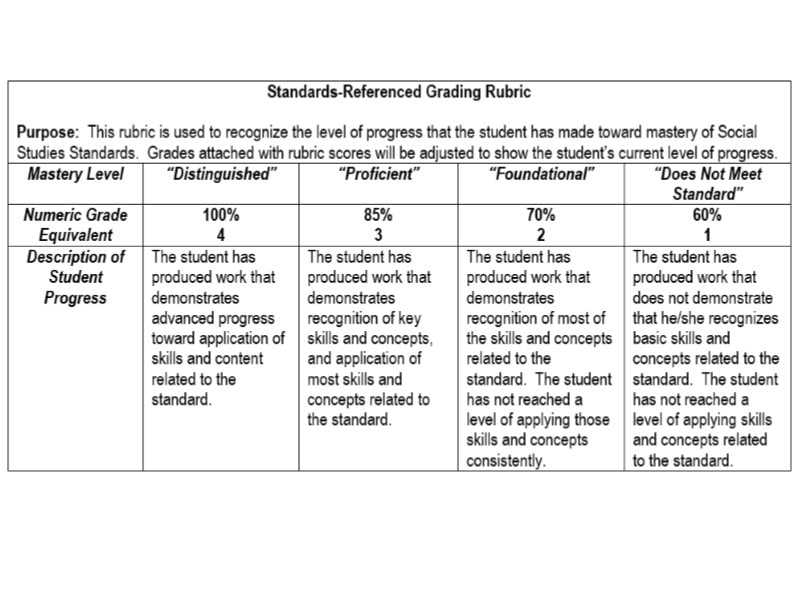 Standards-based Grading Scale Percentages
Some teachers are more familiar with grading using percentages. 
Here's a table that shows a sample of the grading scale when converted to percentages.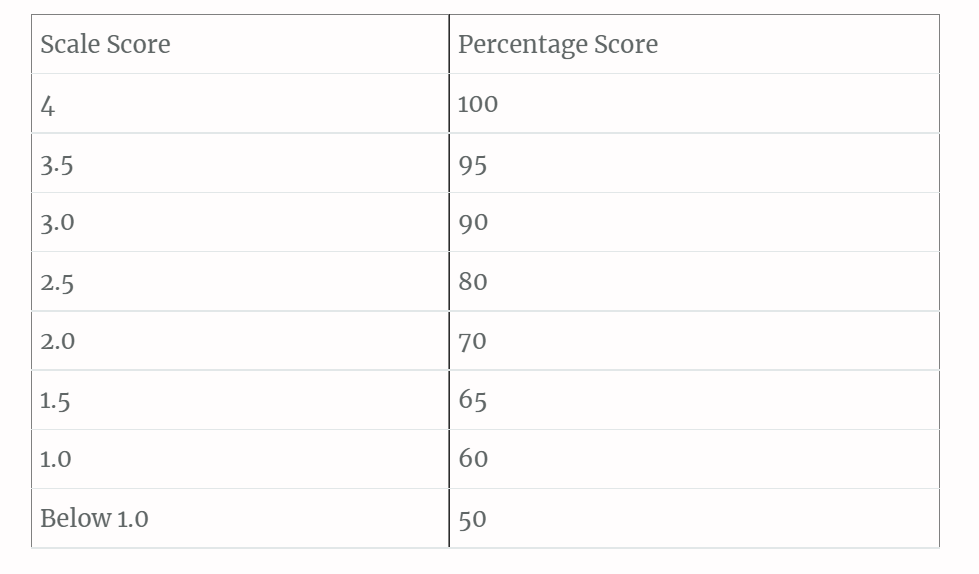 Benefits of Standards-based Grading
Take a look at how standards-based grading addresses each of those four criteria.
"Accurate:

By basing a student's grade on solely academic factors, the teacher creates a clear picture of what the student has learned without the influence of other factors. These other factors, such as effort and attitude, are still essential, but are not part of the student's academic grade and are communicated separately. 
Consistent:

For each unit, the teacher will provide a rubric that describes exactly what the student will need to master. Using these rubrics establishes clear expectations for mastery up front and applies them consistently throughout the unit and semester.
Meaningful:

A meaningful grade is one that clearly communicates what learning has taken place. In a standards-based classroom, scores are recorded by the essential standards rather than by types, such as tests or homework, making it easier to identify areas of strength and address areas of concern for each student. 
Supportive of Learning:

Standards-based grading supports learning by focusing on the material that has or has not been learned rather than on accumulating points to reach a certain total. The reassessment policy also supports student learning by allowing new levels of learning to replace old ones when a student shows improvement on an assessment."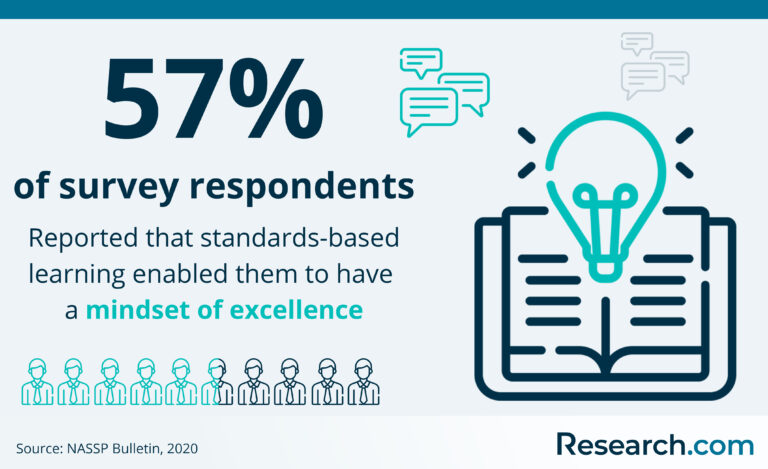 How Will Students Benefit from Standards-based Grading? 
With standards-based grading, students will now be graded according to academic, behavioural and habitual factors throughout the academic year or semester. The new grading scale is not about scoring A-F grades, but is concerned with M (mastery), P (progressing toward mastery), B (beginning to progress toward mastery) or N (not yet demonstrating progress). 
Students are driven to enhance knowledge with deeper comprehension as they go toward mastery of focused learning goals, and "reward" or "penalty avoidance" becomes secondary. Accordingly, students will: 
Show a more positive and motivated attitude towards learning

Learn the importance of independent learning 

Touch the value of their learning material 

Get encouraged to try new challenges 

Stay immersed and engaged in class

Focus on being successful rather than merely keeping away from failure 
This might interest you:  7 Methods to Develop Creative Thinking Skills for Students
Disadvantages of Standards-based Grading – Why Some People Think It's A Challenge
After discussing the myriad benefits of standards-based grading, let's take a look at the potential drawbacks of this grading system. 
Drawback 1: Clarifying the Goal
This is the initial challenge that teachers face when trying to implement the standards-based grading scale. Let's look at these questions. 
What information do we want to communicate? 

Who is the primary audience for that information? 

How would we like that information to be used? 
One common trap that teachers fall into is that they choose the report format first with disregard for the main purpose of the report. That's why students and their parents end up realizing that this "new" report is not really new or informative. 
On the other hand, when teachers focus on the purpose of the report from the start, everything is accordingly more organized. Parents will then know how to navigate the card based on their understanding of its purpose.
Once the goal is clear, parents and teachers will be able to run a smooth communication based on numbers and facts from the report card directly. 
Take a look at these Modern Methods Of Teaching That Make An Awesome Classroom
Drawback 2: The Shift to a New System of Standards 
Another issue is that parents would prefer that primary instructors use traditional letter grades rather than standard-based reporting. Parents understand letter grades since it is what they earned while they were in school. And, because the majority of high schools still utilise letter grades, parents want their students to understand how to navigate and achieve within that grading system.
Traditional letter grades, on the other hand, have two fundamental flaws. To begin, in order to provide a single letter grade to students for each topic covered, teachers must integrate information from a wide range of sources into a single mark.
As previously stated, this results in a complex mixture of grades that are tough to understand and rarely offer a genuine picture of a student's performance. Teachers can use a standards-based report card to assess students' academic success as well as their attitudes, efforts, participation, and work habits.
It gives parents a more comprehensive view of their child's academic achievement as well as their child's behaviours. The second disadvantage of a letter grade is that it provides no information about what was taught.
Standards-based report cards usually classify each subject into specific learning aspects. Reporting on each of these criteria within each subject provides parents with a thorough overview of their child's progress. A  "C" grade, on the other hand, says nothing regarding the student's individual strong points or learning challenges.
Consequently, standards-based grading encourages parents and teachers to work together to enable students to enhance their performance. 
After all, many schools across the world have embraced the idea of standards-based grading for decades. Standards-based grading is a way to view student progress in a comprehensive and inclusive view. It is certainly useful for teachers where they will find that their instruction is at the right place and it's more relevant. For students, motivation is the great end result of this grading system which, in turn, will yield a fruitful performance. 
Sources: 
https://cdn5-ss9.sharpschool.com/UserFiles/Servers/Server_663537/File/About%20Our%20School/Building%20Initiatives/Standards-Based%20Learning/sbl%20frequently%20asked%20questions%20-%20hs.pdf