Women education in Egypt will never have been the way it is without strong unyielding women. The history of Egyptian women's education may go back to Malak Hefny Nassef, the first Egyptian girl who received primary school certificate, and Bint al-Shaṭi': a woman who defied her society to be accepted as a writer of dozens of books in many fields and a professor.
These women have proven that they can challenge all circumstances, taking big steps towards development. Here, we will offer a glimpse of some of the contemporary Egyptian women that overcame all obstacles to follow suit.
The following four women have revolutionized education in Egypt, each in her own way. (Read more about education advancement in "How Can an Institution Obtain Academic Accreditation?")
Get started Skolera for FREE
1. Malak Zaalouk: Leader of Community Schools 
Dr. Zaalouk is the first Egyptian woman to be the Chairperson of UNESCO's Institute for Lifelong Learning (UIL). She is also the Director of the Middle East Institute for Higher Education (MEIHE) at the AUC's Graduate School of Education. Every step in her career has been challenging. She held several positions before that. And community schools were one of her lead focus points.
 Malak Zaalouk was the leader of community schools movement in Egypt in 1992. Community schools help marginalised students from disadvantaged areas and are built by non-governmental organizations (society).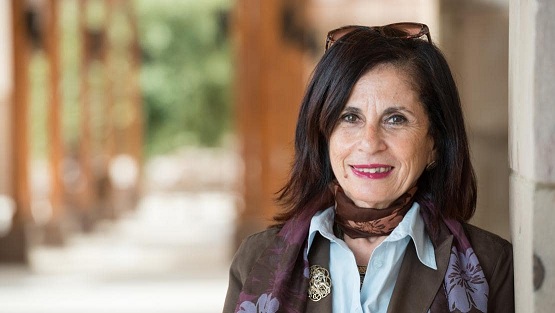 One of the widely watched series in Egypt focused on community engagement in general. It told a meaningful story about the importance of equality and how it can't be achieved without society cooperation. 
1.1. Education in Egypt and Community Engagement
The story goes as follows: the hero is the landlord of a residential building but he's very poor, with a sick father who needs money for medicines. The reason of his conditions is because the monthly rent is only 10 pounds; it has been this way for 50 years.
The viewer empathizes with the actor; the story shows him in poor conditions while most of his tenants could actually afford to increase the rent a little bit.
Only if society agrees to stand shoulder to shoulder can it really pull itself from situations like injustice, inequality, and poverty. This is exactly what Malak Zaalouk did, in her own field, though: education in Egypt.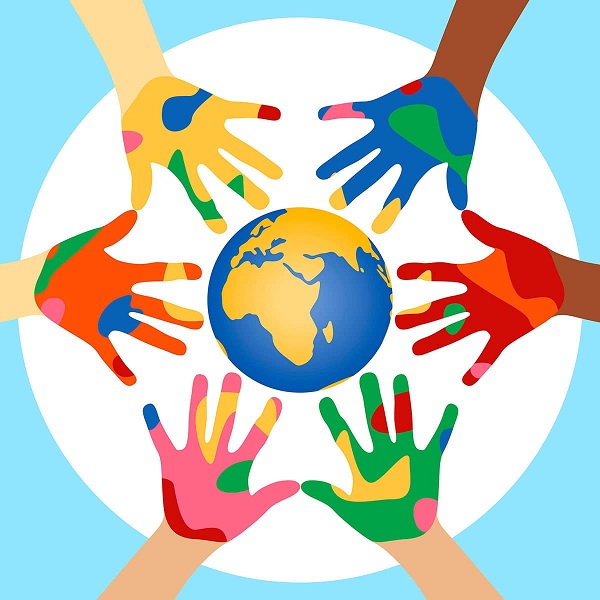 All advanced countries could never have reached high levels of education without civil society playing a great role. And we cannot forget that Cairo University and Al Kasr Al-Ainy were first founded by voluntary funding contributions. Recent statistics showed that Egypt is in need of 17 thousand schools. This is not an easy number to reach except with real community engagement.
Malak Zaalouk succeeded in setting very unique and significant goals for education in Egypt. With the cooperation of the UNICEF, NGOs, civil society associations like Misr Al Kheir, and the Ministry of Education, Egypt managed to establish thousands of community schools.
Dr. Malak Zaalouk has made steady, unfaltering progress in education in Egypt. Her work will always remain an inspiration for others.
2. Nawal El Degwi and Education in Egypt
"Mama Nawal" or "Mother Nawal," as her students call her, will remain a pillar of success and going beyond the norm in education in Egypt. She is considered one of the most important women in Egypt and a major figure in the field of education.
Earlier this year Dr. Nawal El Degwi was honoured by the Presidency. Her achievements were recognized at home and abroad many times. Further, she received over 50 awards for her dedication to her cause.

Dr. Nawal El Degwi is considered a pioneer in private education in Egypt. She founded Dar El-Tarbiah Schools. She also established October University for Modern Sciences and Arts (MSA) in 1996, one of the first universities in Egypt to apply British standards and regulations.
At that time, many criticized private education, seeing it is as a non-successful system. However, she was confident in her success and proved it. Now private universities have become a successful trend in Egypt, competing for good quality education and practical training.
She always had a concept to follow: "work­—always—has moral value, because at the end it is the real worth of work." And this dedication has always attracted thousands of students from abroad.
Join Skolera Now for FREE
3. Dalia Ibrahim: EdVenture Founder
Dalia Ibrahim is Nahdet Misr Publishing House's CEO and the founder of EdVenture. Her company is the first of its kind in Egypt and the Arab world. It supports edtech entrepreneurs and startups.
Moreover, EdVenture incubates, accelerates, and invests in startups serving the sectors of education, culture, and innovative learning solutions.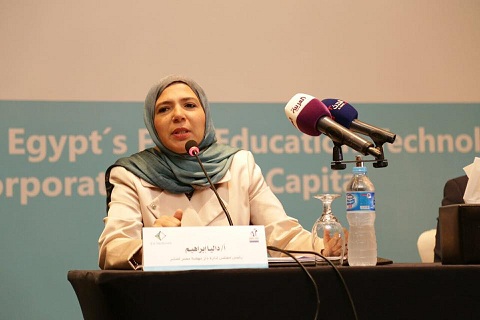 Being the granddaughter of Ahmed Ibrahim, the founder of Nahdet Mir, and an integral part of it, she, head-on, saw the difficulties facing education and culture. Therefore, she founded EdVenture and it was launched in 2017. Through it, she started supporting parents, students, graduates, academic institutions, investors, governments, and entrepreneurs: a whole society.
By launching EdVenture, Nahdet Misr and Dalia Ibrahim have become able to support educational startups through mentorship, training, and access to investment.
Dalia Ibrahim's company opens up opportunities mainly for our country's education entrepreneurs to step up. It makes sure that they have a voice and are given all the help they need to flourish.
4. Khadija El-Bedweihy: Skolera Founder
As a Ph.D. holder who is just a few months shy of being 33, the founder of Skolera, and above all a female Egyptian leader in the field of educational technology, Dr. Khadija El-Bedweihy is considered a significant icon of successful women in Egypt. (Get a Recap of Skolera in 2018: What Did We Do?)
After receiving her Ph.D. from the University of Sheffield, Dr. El-Bedweihy worked as a lecturer in the Faculty of Computers and Information, Cairo University. Later, choosing to give back to her society, her first startup (Skolera) was established in Egypt to revolutionize education in Egypt.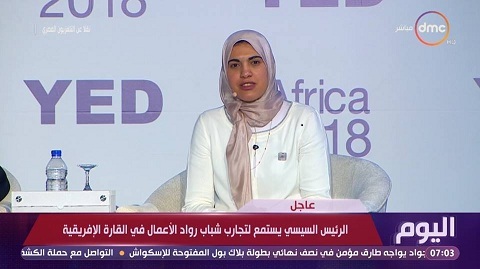 If you have not tried Skolera LMS for schools before, you can request a free demo.
The edtech entrepreneur's vision, adopting technology to create solutions for everyday-challenges in education in Egypt and other countries, has formed years ago. Now it has taken shape in Skolera. Skolera is a unified learning management system (LMS) for K-12 created to fulfill the needs of students, teachers, and parents and more.
4.1. Skolera's Growing Popularity
"I've had my job as a teacher done finally in an easy way. Charts and graphs were a great help for me," a teacher who used Skolera for 1-2 years said.
The product popularity is growing at a fast pace due to its many features and unique adaptive learning engine. This engine uses computer algorithms in order to recognize the needs of each and every learner. (Read more about Skolera's features and benefits.)
With her team, Dr. Khadija managed to reach many schools, in Egypt and all around the Middle East. Further, Skolera was also recognized as one of the best 20 LMS software programs by the eLearning Industry.
Moreover, in 2017 Skolera also received two award from Finances Online with an 8.0 out of 10 score. Finances Online's awards were the 2017 Rising Star Award and the Great User Experience Award for Best Learning Management System.
Book FREE Live Demo Now
4.2. PraxiLabs
On the other hand, Dr. Khadija also founded another educational technology solution: PraxiLabs. This month only, PraxiLabs won 3 big awards: from Techne Summit, held in Alexandria, and during South Summit 19, Madri, and enlightED Global winner and the best technological solution for learning and training.
In her early thirties, Dr. Khadija El-Bedweihy's futuristic outlook has fallen into place with her educational technology solutions. Her tireless efforts are a good example for development in education in Egypt for our generations and quite a legacy for future one.
Women who enter the field of education technology (edutech) are few. Egyptian women who enter this field are even fewer! However, Dr. El-Bedweihy has succeeded in delivering her message; make a difference and excel in what you are interested in against all odds.
These women have more than one thing in common. However, their most one defining common factor is their challenging, unwavering spirit. Their persistence to defeat all odds and their vision for education in Egypt are lessons and examples to look up to.  
Check out Skolera – LMS to learn more about how it can help your educational institution. You can also check our blog regularly to follow the best practices and the latest technological advancements in education.
Create Free Account
References
   

Economic Research Forum, the Challenge of Private Higher Education in Egypt, 2014.

Featured picture sources: EdVenture facebook page images, and El-Watan News website.