"We need to bring learning to people instead of people to learning." – Elliot Masie, Educational Technology expert and founder of the Masie Center . Some people still prefer traditional classroom education. These people might think that virtual learning could never surpass the real classroom experience. Does virtual learning live up to its hype? In this article, you will find out more about the importance of virtual learning, its types, advantages, its role in education and suggestions for elevating the virtual classroom. 
Throughout the years, there have been numerous trends in the field of education that have influenced classroom systems and teaching styles and trends. One trend, however, still maintains its charm today. Virtual learning has become an indispensable part of most, if not all, educational institutions. 
Get started Skolera for FREE
What Is Virtual Learning?
Virtual learning is a web-based learning experience where students and teachers connect through computer software or the Internet for the delivery of instruction. In a virtual learning environment, students are not required to physically attend classes. Instead, they can receive their education remotely. 
Types Of Virtual Learning
1.Synchronous Learning: This type of virtual learning takes place where students attend online classes and lectures using video conferencing platforms simultaneously with the instructor who is teaching. This type is useful for students that demand instant feedback and interaction from their instructors.
It can also facilitate teachers' use of online discussions that form the basis for some subject curricula. 
2.Asynchronous Learning: This type does not necessitate that the student attends online lectures or classes. Instead, the student can learn through pre-recorded sessions, interact with their instructors through emails and discussion platforms, and access online resources like textbooks through virtual libraries.
This type of learning is definitely beneficial for students who like learning at their own pace in a manner that suits their schedule and retention rates. 
3.Hybrid/Blended Learning: This type of learning takes the best of both worlds, in which the teacher and student can receive the benefits of online classes as well as real-time classes. This can be achieved by incorporating online learning materials into the real class.
Usually, both these techniques complement each other in a manner that is suitable for both teacher and student. Students usually report better feedback from this type of learning as it allows them the benefit of increased interaction with the teacher along with the real feel of a classroom experience. 

Advantages Of The Virtual Classroom
Flexibility of schedule and place
One of the main merits of virtual education is the ability to study and learn from anywhere and anytime. This is especially beneficial for overseas students and international students as well. Students can easily adjust their schedules according to the timings suitable for them and they can learn from anywhere around the world.
Virtual education is non-restrictive and is more accommodating of students who might be working on the side or people who have graduated but need to elevate their standards of knowledge in other fields. 
Less expensive (less cost)
If students learn from home or anywhere else, they would not have to spend much on transportation, accommodation and travel fees for their school or university. This renders distance education a great option for people who want to do further studies without harming their wallets. 
Learn more: Skolera implements virtual learning classrooms.
Join Skolera Now for FREE
Most universities and schools that offer distance education nowadays implement the system of e-learning for their students. This allows students to virtually learn through internet-based platforms like Learning Management Systems (LMS). These types of platforms usually offer user-friendly dashboards that ease the communication between instructor-learner.
They have also made virtual learning much easier through the option of online classes and virtual office hours. It is almost like the real class experience only without the hassle of having to physically exist there. 
Availability of resources
Most LMS platforms also facilitate cloud-based storage that allows instructors to upload academic resources for the use of students. Instructors can also suggest online resources for the students as extra learning material. If you notice, this will also save the costs needed for buying textbooks and printing reading and studying materials. 
Learn more about hybrid classes by watching this video.
Importance of virtual learning during COVID-19
The global Covid-19 pandemic has tremendously changed the world in all aspects even in education. Schools have had to shut down and resume classes virtually. More schools now have decided to fully implement distance learning through the use of digital platforms for easier communication with the students. This sudden transformation has sparked a debate on whether virtual learning is actually beneficial for students.
Even before the pandemic, the usage of education technology was already quite high as major investments increased for its enhancements and development; they even reached more than US$18.66 billion in 2019. Research indicates that students understand and comprehend about  25-60% more material when learning virtually compared to only 8-10% in an actual classroom. This is because students are able to learn faster as virtual learning allows a self-paced learning culture and a more flexible learning lifestyle.
Suggestions for the Development of the Virtual Classroom
E-learning has become an indispensable part of education nowadays as people have realized the importance of virtual learning in our lives.  Because technology has found its way into every part of our lives, it is normal to play a big role in schools and universities as well.
E-learning platforms have now emerged to cater to schools and teachers all around the world. The merge between distance and virtual education has elevated the value of virtual learning as a concept and has made it much more feasible and effective.
If you are a teacher or educator, it is time you rethink how you can incorporate technology into your curriculum and day-to-day teachings. This can be manifested in several aspects of education including the integration of technology in daily classes, activities and even assessments.
It has been proven that technology in learning helps students achieve higher grades because of their increased engagement with the class and saves time for the teachers which in turn helps them focus better on the class and identify their students' needs and gaps in understanding.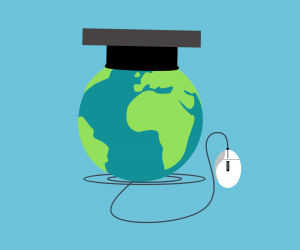 Read this blog to find out more about educational technologies and Skolera's platform.
Open your arms to students in need
During the e-learning atmosphere, it is likely that you will find that some students can feel left out or lost because of the lack of real student-instructor connection.
For that reason, it is your role as a teacher to attempt to bridge that gap by stressing the importance of interaction with the classroom. You can also reassure your students that you will carry out online meetings for those students that need extra class attention.
It would really help if you specify virtual office hours for addressing students' queries and gaps in understanding. It is important to remember that not all students function the same way; neither do they retain information at the same pace.
Addressing this problem will definitely make the whole distance education journey much more productive for students.  
Make your lessons less boring
In the move to e-learning, it is best to avoid using the same real classroom techniques. Technology-integrated classrooms require more effort on the part of the teacher to make it interesting and facilitated for the students. Try to implement active learning into your online classrooms to keep your students engaged and look forward to their upcoming classes.
Incorporate online activities, introduce mini breakout sessions, and take your students on virtual trips to let them have an amazing distance learning experience. Go the extra mile in your lesson planning and you will definitely reap the benefits and see a difference in your students' achievements. 
The shift to online classes can be demotivating for some students. The usual technical issues that accompany online classes, the lack of real interaction, and the uninspirational working space of students can make students feel like they want the class to get over soon.
To avoid an idle classroom, why not challenge your students by giving them group activities to boost their creativity and engagement?
You also need to give priority to the most important tasks at hand. Try to keep it simple to avoid cluttering classwork on your students and keep it easier on your own workload as well.
Your students will never be interested in your class if they feel pressured and required to do a million tasks at the same time. The transition to online learning should be smarter not harder on you and your students. 
Provide constant feedback for students
Keep in mind that students at this time need constant feedback because they will already feel lost themselves. It is important to prioritize your students' handwork and give them regular feedback so that they feel cared about and feel like they are actually being productive and active. 
How to make remote learning fun when students are no longer engaged? 
Role of Virtual Learning in Developing Education 
Create Free Account
1.Encourages a self-paced learning process
E-learning has given learners the space to learn flexibly and at their own pace. This is especially comfortable for students who have a hard time focusing while under pressure.
This makes e-learning a great option for students who value convenience and flexibility. After all, taking your time is key to a constructive and productive learning process/journey. 
2.E-learning techniques help in retention levels for students
E-learning works best when coupled with flexible techniques like active learning, project-based learning, collaborative learning and more. These techniques proved to be beneficial for maximizing/increasing students' retention levels.
This has led the e-learning industry to be regarded as a leading industry to which researchers have started to give attention. 
3.Promotes the importance of self-learning which will help build students' characters and prepare them for the workplace and life in general. As we all know, self-learning is crucial to the development of students' academic life as well as independence.
E-learning specifically helps amplify the skill of self-learning as teachers have started to give more attention to student-centred approaches that prioritize students and aims to up their involvement and independence when it comes to studying and learning by themselves. 
Importance of Activating Parents Roles
1.Provide academic as well as mental support
Virtual education could be a new experience for students who are used to traditional class education. This can sometimes lead to confusion and frustration from students as they can have a hard time adjusting to this novel learning process.
They might also feel lost or unable to communicate with their teachers and classmates and that might discourage them from attending their online lessons or even take part in active class discussions.
For that reason, it is important that parents exert effort with their children at home by giving them necessary moral support like helping them focus, eliminating possible distractions, giving them needed guidance in certain subjects or even advising them with studying in times of need.
This can also be topped up with effective academic support in which parents can make sure their children are on track regarding their academic anxieties and being around when they need to fill gaps in understanding certain class materials.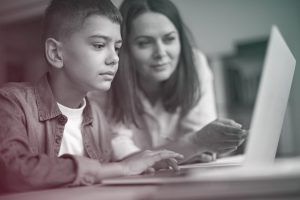 2.Learn about teachers' work and curricula
Parents also need to equip themselves with all the possible information regarding their child's state and progress throughout the academic year. This includes knowing about the teacher's plans, deadlines and classwork to better understand what the child learns and familiarize themselves with their child's education.
This could prove really helpful for helping with class assignments and in parent-teacher meetings that usually require background knowledge on the part of the parent. 
3.Familiarize themselves with all the tech 
Another important step that parents need to take is understanding the basic concepts of technology in the classroom. This involves the understanding of the school's tools that are used in learning and administration of the student's affairs. Understanding the basics of video meetings, LMS platforms and digital classrooms are the tools that each parent needs. 
This article discussed the importance of virtual learning, its types as well as how the incorporation of technology can be useful for teachers and students alike. It also suggested possible ideas for making the virtual education experience much more fruitful and productive using technology and tips for teachers to maximize this digitized experience for students and make them feel engaged and interested.
Parents also should play an active role in their children's distance learning journey to make sure they benefit from their classes and enjoy themselves at the same time. 
Start With Our Free Trial
Sources:
Nguyen, T. (n.d.). The Effectiveness of Online Learning: Beyond No Significant Difference and Future Horizons. https://jolt.merlot.org/Vol11no2/Nguyen_0615.pdf. 
SPOTLIGHT | Jun 28, 2020. (n.d.). How parents can help their child's transition to e-learning. The Times of India. https://timesofindia.indiatimes.com/pcpaathshala/parents/parents-articles/how-parents-can-help-their-childs-transition-to-e-learning/articleshow/76296762.cms. 
What is E-learning? and know the importance of elearning in education. Best Blogs & Insights From Digital Class E-Learning Marketplace. https://www.digitalclassworld.com/blog/importance-of-elearning-in-education/. 
https://scholar.google.com/citations?user=4L7xCD8AAAAJ&hl=en